9th British Education Fair
In a busy week at the end of November, the 9th British Education Fair travelled to Ýstanbul, Ankara, Adana and Ýzmir.
Our two guests of honour, Baroness Blackstone, the minister of state for education and employment in the House of Lords, and Professor Kemal Gürüz, the president of Turkey's Council of Higher Education, performed the opening ceremony at this year's event. We are grateful to them for the support they have given to British education in general and to the fair itself.
Some 14,000 visiting students benefited from expert advice offered by representatives from over 50 of Britain's top universities and colleges who were present at the fair.
Baroness Blackstone and Professor Gürüz also presented the prestigious Millennium Scholarships. This project had been jointly organised by The British Council with the Universities of Leicester, Warwick and Westminster, Robert Gordon University and Southampton Institute. The six outstanding winners are Saadet Koc, Irem Soydal, Isik Batmaz Keremoglu, Canturk Isci, Kemal Onur Toker and Bulent Gursel Emiroglu. We congratulate them all and wish them well in their studies in Britain.
Prize drawings were held throughout the fair, and three lucky winners will be attending a two-week language course in Britain at the following schools, with air tickets care of British Airways.
ISCA School of English,
Exeter
Winner: Funda Corakci,
Istanbul
New School of English, Cambridge
Winner: Yesim Dogan,
Adana
Eastbourne School of English, Eastbourne
Winner: Menekse Yildiz,
Izmir
In her opening speech, Baroness Blackstone provided information on the prime minister's initiative developed to provide better and more welcoming services to international students studying in Britain, which will have a direct effect on the experience of all Turkish students going to Britain. The full text of Baroness Blackstone's opening speech can be found on The British
Council web page www.britishcouncil.org.tr.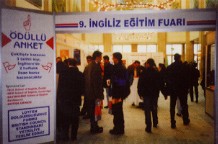 Entrance to the Ankara event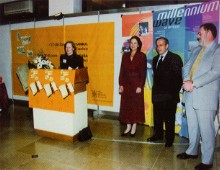 Opening reception in Istanbul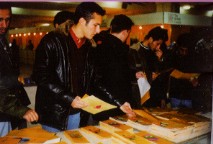 Rush for the new information brochures written in Turkish about studying in Britain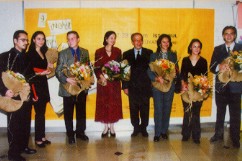 After the presentation of the six millennium scholarships

Canturk Isci receiving his scholarship to study an MSc in VLSI System Design at the University of Westminister, London